Google Chrome 117 Features and Offline Download link (Updated)
This release rolls out with major UI overhaul and enhanced privacy features. In addition to innovations and the correction of errors, 16 vulnerabilities have been fixed in the new Google Chrome 117
Google Chrome, is the most popular web browser known for its simplicity, speed, and security. It offers a clean and minimalistic design while incorporating advanced technology to provide users with a faster, safer, and more user-friendly web experience. Recently Google Chrome Version 117.0.5938.63 (Official Build) was released with a number of new features and Improvements. The latest release also patches 26 unique security vulnerabilities.! Let's deeply know the world's most popular web browser, Chrome 117  features, and links to Download Google Chrome 117 Offline Installer 64-bit and 32-bit.
Download Google Chrome 117
Existing users can update to Google Chrome 117 by accessing the browser's settings and navigating to the "About Chrome" section. Alternatively, you can update Chrome 117 by directly typing "chrome://settings/help" into the address bar and then pressing the enter key.
This will prompt the browser to check for updates and initiate the update process to the latest version, ensuring users can take advantage of the latest features and security enhancements.
If you wish to download Google Chrome 117, you can find both the 64-bit and 32-bit Offline Installer using the following links:
64-bit Offline Installer: Download Google Chrome 117 64-bit Offline Installer
32-bit Offline Installer: Download Google Chrome 117 32-bit Offline Installer
Also, you can Download: Google Chrome 117 MSI Installers for Windows and the web installer: Google Chrome Web 32-bit | Google Chrome 64-bit here.
Google Chrome 117 Features
The latest release of Google Chrome 117, is available for Windows, Mac, ChromeOS, Android, and iOS. This update focuses on privacy and security to ensure a safer browsing experience for everyone. There is a New Material You Interface, an Updated extension store, a Privacy Sandbox for all users, a warning system for malicious extensions and more. Chrome 117 also addresses and fixes 16 security vulnerabilities, making the browser more secure and less susceptible to potential threats.
Material You design
Google Chrome version 117 introduces the Material You design language to desktop PCs, offering a refreshing look and feel. Users will notice a soothing blue top bar with vibrant color themes, providing a visually appealing experience. Additionally, the three-dot menu receives improvements with enhanced spacing, better grouping of account-specific options, and more distinct icons, making navigation easier. These changes are gradually rolling out to all users, enhancing both aesthetics and usability in Chrome's interface.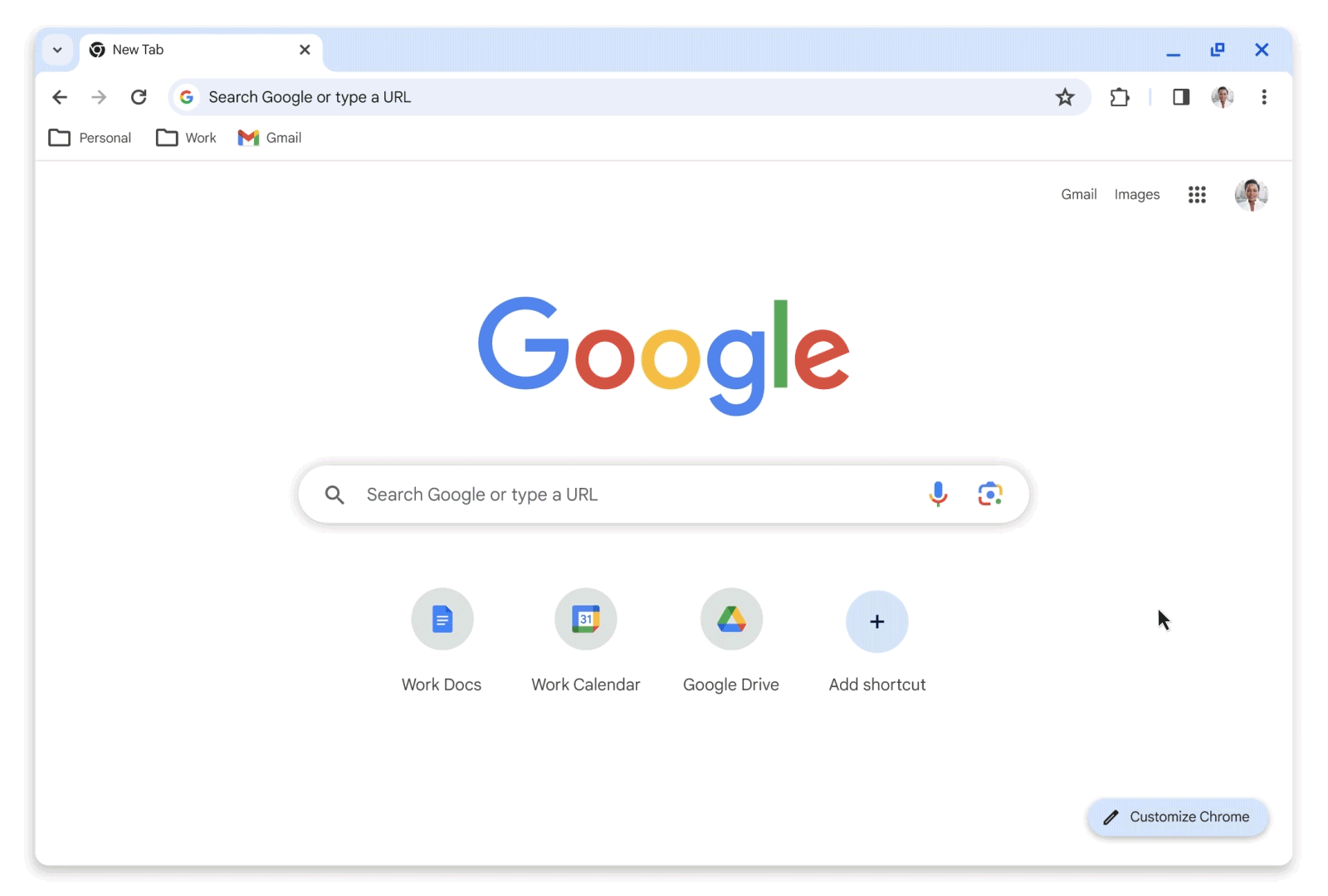 A more comprehensive menu is also in place, granting faster access to Chrome extensions, Google Translate, Google Password Manager, and more. This can be accessed by clicking the three dots in the top-right corner of your browser.
Updated Chrome Web Store
The Chrome Web Store has been redesigned, also taking inspiration from Material You. This not only gives it a modern facelift but also enhances the discoverability of useful extensions. Expect to find new categories like AI-powered extensions and Editors' spotlight, along with personalized recommendations. For added security, Safety Check now extends its reach to extensions, helping identify any that might pose a risk.
Did you catch this update? We unveiled the Chrome Web Store redesign in celebration of Chrome's 15th birthday! 🎉 Learn more about what's new and the inspiration behind the update: https://t.co/Qj8ZZEfIqp pic.twitter.com/apsuE4Joru

— Chrome (@googlechrome) September 8, 2023
Google Search side panel
Browsing is made even more intuitive with the addition of new search features. Now, when you're on a webpage, you can easily initiate a Google search right from the three-dot menu. This opens up a Google Search side panel, where you can explore related searches, delve into a page's source, or start a fresh search. You can even pin this panel to your toolbar for quick access.
Last month, Chrome introduced generative AI capabilities to enhance the browsing experience. Opting in to "SGE while browsing" in Search Labs allows U.S. users to test this out. It facilitates easier navigation of web content, enabling you to quickly find the information you're looking for on a page.
upgrades to Safe Browsing
Security remains a top priority, with upgrades to Safe Browsing. This feature now checks sites against Google's known-bad list in real-time, offering more immediate protection from malware and phishing threats. For even higher security, users can activate Enhanced Protection mode, providing additional defenses against new attacks, deep scans for files, and enhanced protection from malicious Chrome extensions.
In celebration of 15 years of Chrome, these updates promise a safer, more efficient, and personalized browsing experience. Stay tuned for more exciting enhancements in the pipeline.
According to the official Chrome Releases website, Google has addressed and fixed a total of 16 security vulnerabilities in Chrome 117. There is also a full changelog for anyone interested in all changes made since the last Chrome release.
Also read: